FORT COLLINS, Colorado -- Cash the wild horse is busy learning the business of civilization.
Rounded up earlier this year with a herd of mustangs in Nevada, Cash took up residence March 6 with his foster-human and new trainer, Jessica Gabkowski. A week and a half later, Cash accepted the saddle. Note: Many fully-grown, untrained horses would not make life this easy.
The goal? To give Cash the "Extreme Mustang Makeover ", and have him ready for the mustang sale June 13 at the Colorado State University Equine Center.
I met Cash this Saturday at CSU's annual Spring Fling Horse Show. Cash, and Jessica, who boarded at our stable when she was a CSU student, were hanging out, soaking up the atmosphere, and watching the English horses jump. I might add that Cash was "hanging out" very quietly and peacefully. Cash, a gelding, is four years old, but acts much more mature. Cash will compete in a horse show with the other "Extreme Makeover" candidates in the days before the auction, June 11 -12.

Jessica feels lucky. Not all full-grown mustangs are as easy as Cash, but she said "there are some people like me that got really good ones." Jessica is keeping a diary of Cash's progress at CashTheMustang.blogspot.com. You can see from Jessica's photos that Cash has been a real sweety all along. For those who are new to the horse game, remember: A good disposition is one trait that can never be trained.
Cash, as you may notice, is also very cute, about 14 hands, with a long, curly mane, full tail, lots of flaxen highlights, sturdy bones and feet. A lot of people might pass Cash over however, because he is well, just brown.
"That is really the whole point of the program," said Jessica, "to provide incentive for trainers to train the brown, un-colorful mustangs and get them adopted out." Wild horses across the country are in oversupply these days, and the government's attempts to keep herd size down have been the subject of controversy.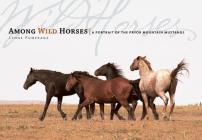 I should add that Cash will not be auctioned off to just anybody. In order to get him, you need to sign up with the Bureau of Land Management's adoption program and get approved. No renderers here, please.
Oh, and Cash's name? It is a sign of hope. Jessica has her eye a share of the $12,000 prize to be split among "Extreme Mustang Makeover" winners. You may also see her flashing a bid card when a certain young horse hits the sale ring.
(Karin Livingston is a career 4-H leader specializing in horses, and the author of the young-adult horse novel, Winning Bet. An add-free version of this blog is available on the Amazon Kindle. Just search for "Hoofprints" on your device.)